Job Fairs/Recruiting Events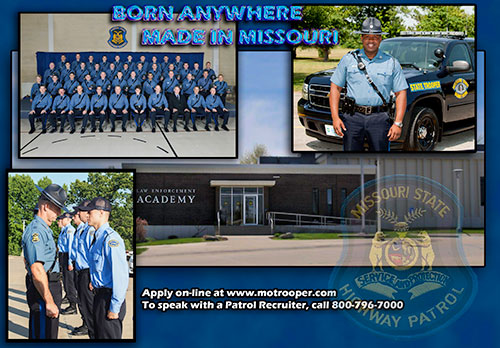 Come out and meet Recruiter Corporal Tony Sandoval for the Missouri State Highway Patrol Southwestern Region. He is responsible for recruiting activities in Troop D, Springfield and Troop I, Rolla. See schedule of Job Fairs and Recruiting Events for the Southwestern Region below.
NOTE:* Events on Military Bases are only opened to military personnel. Some colleges and universities do not open their events to the public. Contact your local recruiter before attending the event.
Job Fairs & Recruiting Events for Southwestern, Missouri
Recruiter
Events
Location
Dates
Corporal Tony Sandoval

Please contact me if you have any questions.

1-800-796-7000 Ext. #4

antonio.sandoval@mshp.dps.mo.gov

Troop D Service Center

5182 South Grand Avenue

Carthage, MO

Corporal Tony Sandoval

115th Trooper Selection Process Applicant Testing

(Apply on-line www.motrooper.com)

Troop D Headquarters

3131 East Kearney Street

Springfield, MO

Saturday

December 4, 2021

9:00 AM

Corporal Tony Sandoval
Career Presentation

Crowder College

601 Laclede Avenue

Neosho, MO

Tuesday

December 7, 2021

12:00 PM

Corporal Tony Sandoval

Carthage Police Department

Annual LaVerne Williams Christmas Party

Carthage Memorial Hall

407 South Garrison Avenue

Carthage, MO

Saturday

December 11, 2021

8:30 AM

Corporal Tony Sandoval

115th Trooper Selection Process Applicant Testing

(Apply on-line www.motrooper.com)

Troop I Headquarters

1301 Nagogami Road

Rolla, MO

Saturday

December 18, 2021

9:00 AM

Corporal Tony Sandoval
Community Christmas Toy Event

Casa de Oracion

(House of Prayer Church)

3935 West Sunshine Street

Springfield, MO

Sunday

December 19, 2021

6:00 PM - 8:00 PM

Corporal Tony Sandoval

115th Trooper Selection Process Applicant Testing

(Apply on-line www.motrooper.com)

Troop D Headquarters

3131 East Kearney Street

Springfield, MO

Wednesday

January 5, 2022

9:00 AM

Corporal Tony Sandoval
KY 3 Career Fair

Ozark Empire Fairgrounds

3001 North Grant Avenue

Springfield, MO

Wednesday

January 12, 2022

11:00 AM - 7:00 PM

Corporal Tony Sandoval

115th Trooper Selection Process Applicant Testing

(Apply on-line www.motrooper.com)

Troop D Headquarters

3131 East Kearney Street

Springfield, MO

Saturday

January 15, 2022

9:00 AM

Corporal Tony Sandoval
Experts in the Classroom

Rolla High School

900 Bulldog Run

Rolla, MO

Tuesday

January 25, 2022

12:00 PM - 2:05 PM

Corporal Tony Sandoval
Career Fair

Carthage High School

Tiger Activity Center

2600 River Street

Carthage, MO

Tuesday

February 22, 2022

8:00 AM - 11:00 AM

Corporal Tony Sandoval
Career Expo

Springfield Expo Center

635 East St. Louis Street

Springfield, MO

Thursday

February 24, 2022

11:00 AM - 3:00 PM

Corporal Tony Sandoval

MONASP

(Missouri National Archery In The Schools Program) State Tournament

Branson Convention Center

200 South Sycamore Street

Branson, MO

Thursday - Saturday

March 17 -19, 2022

8:00 AM - 4:00 PM