Digital Forensics Investigative Unit
The Digital Forensics Investigative Unit (DFIU) operates within the Division of Drug and Crime Control of the Missouri State Highway Patrol. The DFIU supports the Patrol and other law enforcement agencies in the investigation of a broad range of computer-related crimes. Since 2012, the emphasis of the DFIU has been the Internet facilitated exploitation of children. These offenses include the possession, distribution and production of child pornography, as well as child enticement. 
The unit was created in 1998, as part of the Technical Services Unit and was set apart as a stand-alone component in June of 2002. Due to the broad nature of computer crime investigations, the unit works closely with many local, state and federal law enforcement agencies.
In 2015, the DFIU continued an aggressive program into the investigation of online distribution of child pornography. Officers initiated 44 investigations into the online distribution of child pornography, which resulted in 34 search warrants and 20 arrests for the manufacturing, possession and/or promotion of child pornography charges.
The DFIU is staffed with four full-time members and four task force officers from the Missouri Department of Revenue and State Technical Assistance Team (STAT). One officer is assigned to Troop A- Lees Summit, and one officer is assigned to the Troop E Service Center- Sikeston. The rest of the unit is headquartered in Jefferson City. Additionally, two part-time officers are assigned with one at Troop C- Weldon Spring, and the other at Troop D- Springfield.  These officers are cross-trained in mobile device forensics and online investigations and are specially equipped to assist the DFIU.
The DFIU works closely with a number of agencies in the fight against online crime, including the Missouri Internet Crimes Against Children (ICAC) task force, National Center for Missing and Exploited Children (NCMEC), and the National White Collar Crime Center (NW3C). The unit is partially funded through grants provided by the Missouri Department of Public Safety (DPS) State Cyber Crime Grant (SCCG) and Missouri Internet Crimes Against Children (ICAC).
Relevant Statistics (2016)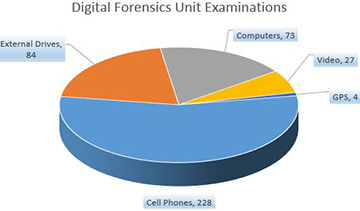 Due to the complexity of the examination, and amount of data which can be stored on current hard drives, computer exams can take a few days or up to several months complete. Officers take an image of the computer's hard drive and work from the copy in order to preserve the integrity of the original hard drive. Complex searches for text strings and graphics are conducted depending on the type of crime being investigated. The immense gigabyte hard drives available today make this a very time-consuming effort for officers in their search for evidence.
Contact Info
Forensic Laboratory direct line: 573-526-6371
Email: DFIU@mshp.dps.mo.gov