Job Fairs/Recruiting Events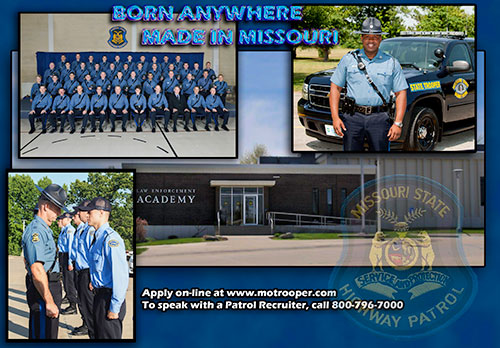 Come out and meet Recruiter Trooper Tony Sandoval for the Missouri State Highway Patrol Western Region. He is responsible for recruiting activities in Troop D, Springfield and Troop I, Rolla. See schedule of Job Fairs and Recruiting Events for the Western Region below.
NOTE:* Events on Military Bases are only opened to military personnel. Some colleges and universities do not open their events to the public. Contact your local recruiter before attending the event.
Job Fairs/Recruiting Southwestern Missouri Events
Recruiter
Events
Location
Dates
Trooper Tony Sandoval

111th Trooper Selection Process

Applicant Testing

(Apply online)

www.motrooper.com

Troop I Headquarters

1301 Nogogami Road

Rolla, MO

CURRENTLY ALL TESTING DATES HAVE BEEN SUSPENDED UNTIL FURTHER NOTICE.

PLEASE CONTINUE TO CHECK BACK FOR UPDATES OR CONTACT A RECRUITER AT

1-800-796-7000

Trooper Tony Sandoval

111th Trooper Selection Process

Applicant Testing

(Apply online)

www.motrooper.com

Troop D Headquarters

3131 East Kearney Street

Springfield, MO

CURRENTLY ALL TESTING DATES HAVE BEEN SUSPENDED UNTIL FURTHER NOTICE.

PLEASE CONTINUE TO CHECK BACK FOR UPDATES OR CONTACT A RECRUITER AT

1-800-796-7000