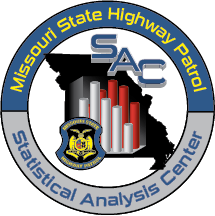 SAC News Stories
2016 Crime in Missouri is now available.
Read More...about Crime in Missouri
The mission of the Missouri Statistical Analysis Center is to provide research, technical, and statistical analytical support to federal, state, and local authorities, policy makers, and citizens of Missouri.
This website is funded in part through a grant from the Bureau of Justice Statistics, Office of Justice Programs, U.S. Department of Justice. Neither the U.S. Department of Justice nor any of its components operate, control, are responsible for, or necessarily endorse this website (including, without limitation, its content, technical infrastructure, and policies, and any services or tools provided).