Dive Team Training and Certification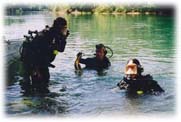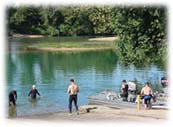 Qualifications:
Must be a member and at least a Trooper First Class
Successful completion of the five-week New Diver Course
Must obtain a medical examination annually to ensure fitness to perform Dive Team duties
Successful completion of the annual Padi Dive Master Water Skills Test
Successful completion of the annual Dive Team Swim test
Training:
All divers must complete the five-week MSHP New Diver Course. All divers are Padi certified in the following courses: Open Water Diver, Advanced Open Water, Rescue Diver, Master Diver, Five additional specialty diver courses, and Oxygen Provider for diving emergencies.
All divers are required to complete Swift Water Rescue I and Ice diving training.
7 divers are Padi Tec65 Trimix certified to dive deeper depths for longer periods of time.
Divers are assigned to 19 training days and 12 practice dives annually.
Annual training courses completed include: panic proofing, "blacked out" entrapment scenarios, out of air scenarios, gas blending, underwater navigation, search pattern validations, lift operations, ice diving, heavy current diving in zero visibility, and administering the peer support program, DEFENSE.