Job Fairs/Recruiting Events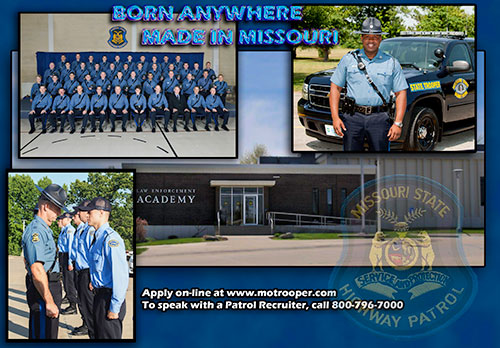 Come out and meet Recruiter Sergeant Richard Stewart for the Missouri State Highway Patrol Western Region. He is responsible for recruiting activities in Troop A, Lee's Summit, and Troop H, Saint Joseph. See schedule of Job Fairs and Recruiting Events for the Western Region below.
NOTE:* Events on Military Bases are only opened to military personnel. Some colleges and universities do not open their events to the public. Contact your local recruiter before attending the event.
**If you are unable to attend any of the following scheduled testing dates please contact Sergeant Rich Stewart (816) 501-8654 or Trooper Gary Daniels (816) 853-7885 to check on alternate testing date(s) availability.
Job Fairs / Recruiting Northwest Missouri Events
Recruiter
Events
Location
Dates
Sergeant Rich Stewart

Coffee & Careers

9:30 AM - 11:30 AM

North Central Missouri College

Geyer Hall, RM 103, 1301 Main St., Trenton, MO 64683.

Wednesday, October 13, 2021

9:30 AM-11:30 AM

Sergeant Rich Stewart

Watkins Mill State Park Community Event

11:00Am - 3:00 PM

Watkins Mill State Park

Saturday, October 16, 2021

11:00 AM -3:00 PM

1-800-796-7000
Sergeant Rich Stewart

115th Trooper Selection Remote Test (written examination and fitness test)

Apply online

WWW. MoTrooper.com

Troop H, 3525 North Belt Highway, St. Joseph, Missouri 64506

Wednesday, October 20, 2021

9:00 AM

1-800-796-7000
Sergeant Rich Stewart

115th Trooper Selection Remote Test (written examination and fitness test)

Apply online

WWW. MoTrooper.com

Troop A, 504 Southeast Blue Parkway, Lee's Summit, Missouri 64063

Wednesday, October 27, 2021

9:00 AM

1-800-796-7000
Sergeant Rich Stewart

Hire A Veteran Career Fair

UCM Campus

UCM

University of Central Missouri

Elliott Hall

Tuesday, November 9, 2021

1:00 PM - 3:00 PM

Sergeant Rich Stewart

115th Trooper Selection Remote Test (written examination and fitness test)

Apply online

WWW. MoTrooper.com

Northwest Missouri State University, Hughes Fieldhouse, 800 University Drive, Maryville, Missouri 64468

Tuesday, November 16, 2021

9:00 AM

1-800-796-7000
Sergeant Rich Stewart

Meet and Greet

Park University Campus

Park University

CJ Department

8700 N.W. River Park Drive Parkville MO

Friday, November 19, 2021
Sergeant Rich Stewart

115th Trooper Selection Remote Test (written examination and fitness test)

Apply online

WWW. MoTrooper.com

Troop A, 504 Southeast Blue Parkway, Lee's Summit, Missouri 64063

Saturday, November 20, 2021

9:00 AM

1-800-796-7000
Sergeant Rich Stewart

115th Trooper Selection Remote Test (written examination and fitness test)

Apply online

WWW. MoTrooper.com

Troop H, 3525 North Belt Highway, St. Joseph, Missouri 64506

Wednesday, December 8, 2021

9:00 AM

1-800-796-7000
Sergeant Rich Stewart

115th Trooper Selection Remote Test (written examination and fitness test)

Apply online

WWW. MoTrooper.com

Troop A, 504 Southeast Blue Parkway, Lee's Summit, Missouri 64063

Wednesday, December 16, 2021

9:00 AM

1-800-796-7000
Sergeant Rich Stewart

115th Trooper Selection Remote Test (written examination and fitness test)

Apply online

WWW. MoTrooper.com

Northwest Missouri State University, Hughes Fieldhouse, 800 University Drive, Maryville, Missouri 64468

Tuesday, January 4, 2022

9:00 AM

1-800-796-7000
Sergeant Rich Stewart

115th Trooper Selection Remote Test (written examination and fitness test)

Apply online

WWW. MoTrooper.com

Troop H, 3525 North Belt Highway, St. Joseph, Missouri 64506

Saturday, January 8, 2022

9:00 AM

1-800-796-7000
Sergeant Rich Stewart

115th Trooper Selection Remote Test (written examination and fitness test)

Apply online

WWW. MoTrooper.com

Troop A, 504 Southeast Blue Parkway, Lee's Summit, Missouri 64063

Saturday, January 15, 2022

9:00 AM

1-800-796-7000

APPLY NOW

5 areas covered on the written examination:

1) Problem Solving Ability

2) Mathematics

3) Personality Characteristics

4) Reading Comprehension

5) Writing Ability

Click on the link below if you are needing practice materials for the written examination.

Click on the link below to find out the numbers you need to meet to pass your fitness test.

APPLY NOW
January 15, 2022, is the deadline to get your written examination and fitness test completed. If you have any questions or conflicts with scheduling contact me directly at  816-501-8654.

Missouri State Highway Patrol 115th Trooper Selection Process July 5, 2022 Human Resources Testing Schedule Application

Deadline for Accepting Applications January 10, 2022 Written Examination/Fitness for Duty Assessment (To be determined) **Additional testing dates may be available. Contact your local recruiter for more information at (800) 796-7000.

Troop A (Lees Summit) Remote Test Troop B (Macon) Remote Test Troop C (Weldon Spring) Remote Test Troop D (Springfield) Remote Test Troop E (Poplar Bluff) Remote Test Troop G (Willow Springs) Remote Test Troop H (St. Joseph) Remote Test Troop I (Rolla) Remote Test Written/Fitness for Duty Assessment (GHQ) Jefferson City

Polygraph Examination Polygraph Examinations (one week) January 17 - 21, 2022

Background Investigation Background Investigations (six weeks) January 31 - March 11, 2022

Background Review/Oral Interview Board Background Review/Oral Interview Board (one week) April 4 - 8, 2022

Conditional Offer Psychological Examination Administered April 27, 2022

Medical Examination Administered April 28, 2022 Final Offer Notification of Final Offer (Tentative) May 30, 2022

Academy Begins (25 weeks) July 5, 2022

Tentative Recruit Class Graduation December 23,2022
-