Current Year
Vehicle
Fatality
Boat
Fatality
Drowning
Incident
Last Year
Vehicle
Fatality
Boat
Fatality
Drowning
Incident
Month
Month
Year
Year
| Year End Total | Vehicle Fatality | Boat Fatality | Drowning Incident |
| --- | --- | --- | --- |
| | | | |
| | | | |
| | | | |
Troop I is located on the northwest edge of Rolla at the 185 exit on I-44. Organized in 1950, Troop I is the Patrol's youngest troop. Serving six counties in South Central Missouri, Troop I has 67 uniformed officers, 23 uniformed civilians, 7 civilian and 3 temporary employees.
The following counties are served by Troop I: Crawford, Dent, Laclede, Maries, Phelps, and Pulaski.
In addition to patrolling the roadways in the Troop I region, over 584 miles of waterways are also part of our responsibility. Some of these waterways include the Gasconade, Meramec, Big Piney, Little Piney, Huzzah, Courtois, Bourbeuse, Missouri, Roubidoux and upper Current rivers.
Troop I Map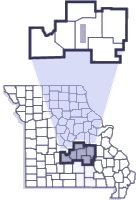 Command Officer
Captain Eddie A. Blaylock
Troop Staff
Lieutenant Aimee N. Fulkerson
Lieutenant Greg A. DuBois
Lieutenant Robert G. May
Request Report