A Career as a Trooper
Are you looking for a challenging career? Duties that are never routine? Good pay and fringe benefits? You may be interested in a career with the Missouri State Highway Patrol, one of the most highly respected law enforcement agencies in the country.
Duties of a Trooper
The primary duties of a Missouri State Highway Patrol Trooper are to promote safety and enforce traffic laws for the motoring public. A trooper provides assistance to motorists and is responsible for investigating highway traffic crashes and other roadway emergencies. Other responsibilities include assisting local peace officers upon request, investigating crimes, and enforcing criminal laws. A trooper must work under all climatic conditions and is frequently required to drive at high speeds. Work schedules change regularly, and officers are subject to call at any time.
Testing
The selection process is a multi-phase testing procedure that includes written examinations, fitness for duty assessment, polygraph examination, comprehensive background investigation/review, and an oral interview. If given a conditional offer of employment, the applicant must successfully complete a medical examination (to include vision and hearing), psychological examination with interview, and drug screening test.
National Criminal Justice Officer Selection Inventory practice exams.
Training
Recruits receive approximately six months (1,200 hours) of intensive academic and rigorous physical training at the Missouri State Highway Patrol Law Enforcement Academy in Jefferson City. Pursuit driving, self-defense, cultural diversity, physical conditioning, arrest procedures, traffic law, civil law, criminal law, and accident investigation are some of the topics covered during the training period. Following Academy graduation, each officer must serve a three-month period under the guidance of a veteran Field Training Officer and a one-year probationary period.
Salary and Benefits
Salaries are dictated by the Missouri General Assembly. Starting salary for a Probationary Trooper is $40,272 annually. Medical insurance, paid life insurance, and paid retirement, are among the available fringe benefits. Officers receive at least 15 vacation days and 11 paid holidays per year. Sick leave accumulates at a rate of ten hours per month.
The Missouri State Highway Patrol is an Equal Opportunity Employer
If you have questions, please contact a recruiter at:
1-800-796-7000
Staff
Division Director
Captain Roger D. Whittler


The Missouri State Highway Patrol is an Equal Opportunity Employer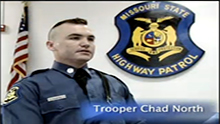 A Career as a Trooper Video
If you are not seeing the flash player in this area then you do not have Adobe Flash Player installed. If flash player is install and you are on a FireFox browser then upgrade to the current version of FireFox and then install the current version of Adobe Flash Player. There are known problems with Adobe Flash Player versions 9 through 10 and FireFox.