Dive Equipment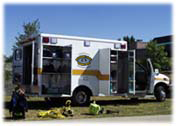 The Missouri State Highway Patrol Dive Team uses many different types of equipment. Listed below are some of the types of equipment used in the day to day operations.
Equipment
AGA Full Face mask, with snorkel, using the OTS MK-II Bud Communications System
Cochran Technology Gemini + Dive Computers
Scuba Pro Uwatex Air Z Nitrox hoseless dive computer
Sherwood Blizzard regulators with Shadow + spare air
Ocean Technology 2010 Communication w/ CDK-6 Surface Units
Sea Quest BC's
80 Cubic Scuba Tanks
13 Cubic Pony Tanks
Oxygen Pacs
Garmin Nuvi GPS units
2 Dive Vans (Ford F350 and Ford F450)
16ft covered Dive Trailer
J.W. Fishers Pulse 8-X Underwater Metal Detectors
J.W. Fishers TOV-1 underwater camera
SeaBotix LBV150L Underwater Remote Operated Camera
Marine Sonic Centurion Splash Proof Side Scan Sonars, 900 Khz tow fish, 1200 Khz tow fish and 1800 Khz tow fish
Nikonis SB103 Underwater Still Picture Camera
Underwater Kinetics 800R Dive Lights
Underwater Kinetics SL 8 Dive Lights
Underwater Kinetics 1200R Dive Lights
Bauer JR. IIG Portable Air Compressors
Honda 2.5 Generators
Honda 2000W Inverters
Gavin Underwater Scooters
Carter 2000 Lift Bags
Use of numerous types and styles of boats.