Programs and Services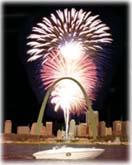 To address boating and water safety, the Missouri State Highway Patrol administers a safe boating course. This water safety education program is directed toward Missouri children in the elementary and secondary school systems. Programs are taught by State Troopers during the winter months, primarily November through March. The goal is to teach water safety to future boaters while in a stable classroom environment. It is believed that knowledge and awareness from educational programs, in conjunction with law enforcement, have reduced injury and fatality rates associated with water-related accidents; therefore, in 2004, the legislature enacted legislation requiring boat operators born after January 1, 1984, to obtain a certification card from an approved boating safety course.
In Missouri the number of boats and their use on recreational waters has increased over the past years. The major lakes of Missouri and the Mississippi and Missouri Rivers account for approximately 275,000 acres with over 8,000 miles of shoreline, not including the numerous tributaries and popular float streams across the state. As of January 2005, there were 336,000 boats registered in Missouri. The number of boats using Missouri waterways also includes approximately 200,000 watercraft not requiring registration and an additional 30,000 out-of-state watercraft.
The total number of accidents, injuries and fatalities has decreased over the past years, even though the number of watercraft has increased. Professional enforcement policies, education and safety awareness have been contributing factors to these reductions.
In addition to patrolling the state's recreational waters and enforcing state law, the Missouri State Highway Patrol provides many other services to the public. Services include public safety exhibits; boat safety inspection stations; boat and motor verifications; authorization of regulatory markers and navigational aids; issuing permits for regattas, races and organized fishing events plus patrolling those events; investigation of citizen complaints, navigational obstructions, boating and water-related accidents and recovery of accident victims. The Water Patrol is mandated to perform these services using the following State statutes:
Pursuant to R.S.Mo. 306.124, the Missouri State Highway Patrol is responsible for the uniform marking of the waterways in the State of Missouri through placement of aids to navigation and regulatory markers. Applications for buoys must be submitted to MSHP, at which time a public hearing is scheduled and notice of the hearing is published. Results of an investigation conducted by an MSHP officer of the affected area as well as testimony from the hearing are provided to the Commissioner, who approves or disapproves the application.
R.S.Mo 306.130 authorizes regattas, motorboat and other watercraft races, marine parades, tournaments, parasail operations and exhibitions on waters of this State after determining that an event will not create conditions of excessive danger for the participants, observers and operators of other watercraft nor unduly disrupt navigation. An application for permission to hold an event must be filed with the MSHP prior to the event.
In accordance with R.S.Mo. 301.560, State Troopers perform marine dealer inspections subsequent to an application for licensure as a boat manufacturer or boat dealer.