Corporal John A. "Jay" Sampietro Jr. -- Badge #584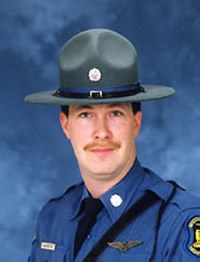 Corporal John A. "Jay" Sampietro Jr, was killed in the line of duty August 17, 2005. Corporal Sampietro was struck by a vehicle on Interstate 44 in Webster County, near Strafford, Missouri. He was taken to Cox South Hospital in Springfield, Missouri, where he succumbed to his injuries. At the time he was struck, Corporal Sampietro was directing traffic while assisting the Patrol's Major Crash Investigation Team at the site of an earlier fatal traffic crash.
The driver of the vehicle which struck Cpl. Sampietro, Wendye Chesher, 29, of Arkoma, Oklahoma, pled guilty to a class D felony of second-degree involuntary manslaughter. She was sentenced to five years supervised probation and seven days of shock incarceration in the Webster County Jail. Chesher was ordered to cooperate fully with the Missouri State Highway Patrol "if and when they decide to make any education video regarding the slow down move over law."
Corporal John A. "Jay" Sampietro Jr. was the 26th member of the Patrol to make the ultimate sacrifice while serving and protecting the citizens of Missouri. He was survived by his wife and two sons.