Sergeant Robert G. Kimberling -- Badge #511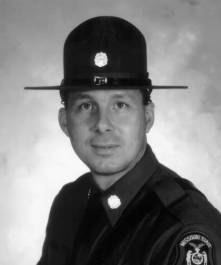 Sergeant Robert G. Kimberling was shot and killed on October 6, 1999, on Interstate 29, in St. Joseph, Missouri, in Buchanan County. The incident occurred after Sgt. Kimberling stopped a motorist who had left the Farris Truck Stop in Faucett, Missouri, without paying for $24.69 of fuel. The driver, Jason M. Friske of Madison, Wisconsin, met Sgt. Kimberling at the rear of his vehicle, then turned and went back to the open driver's door, where he reached in and got a .357 Colt revolver. Sgt. Kimberling had followed him and a struggle ensued.
Sgt. Kimberling was shot twice in the vest while wrestling with Friske and fell backward to the ground in front of the violator's vehicle. He was shot a third time, in the right shoulder, but was able to draw his duty weapon and fire three rounds. Two bullets struck Friske, once in the left foot and once in the right shin, shattering the bone. Friske then shot Kimberling two more times, one of which was the cause of death. Unable to stand because of his own wounds, Friske used his last bullet to kill himself. Even though he was shot five times, Sgt. Kimberling was able to return fire and seriously wound Friske which prevented him from escaping, thus preventing any further injuries or deaths.
Sergeant Robert G. Kimberling, 43, was the 20th uniformed member of the Missouri State Highway Patrol to be killed in the line of duty. He was survived by his wife and two daughters (ages 11 and 12).